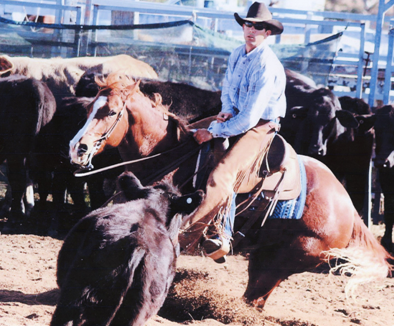 "Sunkissed" Quarter Horse Stud was purchased early in April 2002. I had been introduced to the sport of Cutting by Les Rudd and purchased a beautiful black Stallion, Acre Maker by Acres Destiny. I needed a home for the Stallion I had fallen for and his two mares Barque Jasmine Tee and Cutters Anne. This was the start of dream I had of breeding quality horses. My thanks goes to Les for all his help and guidance when he was with me.
The name for the property came about at the time I was building the arena during the winter of 2002. It was a busy time peaking with a very intense 3 weeks with the days beginning early at dawn. I was travelling every day, with my son Andrew and the dogs, from our home at Moggill out to Purga, crossing the river on the ferry, the mist creeping along the banks and skimming the water. We would arrive at the property just as the sun was coming up in the distance slowly spreading out over the paddocks and it seemed to me the whole place was being "Kissed by the Sun" hence the name "Sunkissed" came into being.
It's a few years on now, and "Sunkissed" has moved forward. I have a great team helping me, in Luke Lyons as trainer and Erin Pinney assisting with the breeding. They, together, with our strappers and many others, have helped to develop our stud. We bred and trained a little mare, Miss Pep San, who succeeded in making the NCHA Futurity Final 2009 and we have many up and coming stars of the future. My dream is becoming a reality with mares and foals happily scattered about in the paddocks. "Sunkissed" has arrived.